Haas Perspect
ives
Student perspectives on the diversity we bring to Haas each day.
Want to share your perspective? Email Lauren_Dugard@mba.berkeley.edu

---
Nov 10, 2016
---
Veterans Day Spotlight:
Haas veterans Drew Minniti and Jake Conger, both FTMBA '18, take time to reflect on their service, the transition to Haas and future goals.
Drew Minniti, FTMBA '18, served over 7 years enlisted in the Army and has served 6 years so far as an officer in the Coast Guard. He is still on active duty while at Haas. Learn more about his experiences with Challenging the Status Quo in the Coast Guard and what he hopes to bring back to the service after Haas.



LD: How do you feel serving prepared you for Haas?
DM: What attracted me to Haas was how aligned the school's values are with those of the military. I didn't find that match at other schools. When I reflected on the Haas 4 core principles, they fully embodied the three core values of the Coast Guard: honor, respect and devotion to duty. The attitude of respect is woven throughout the very culture of Haas.
The Haas core value that resonates most deeply with me is "Challenge the Status Quo". It's not a military value per se, but to me is critical to the work I did while in the Coast Guard and what I hope to bring back to the military after Haas. While working on a year-long study to improve boating safety, I had the opportunity to discuss the value of challenging the status quo with the Vice Commandant of the Coast Guard. We both agreed that it is extremely important as leaders to encourage the acceptance of failure in situations where it is reasonable. If you are going to challenge the status quo on something, you have to be willing to fail – "if you're not failing, you're not trying hard enough." One of my main motivations at Haas is to learn how to build up that muscle as a leader and bring it back to the service.
While at Haas I am focusing my time on resources and skills that will allow me to embody this principle of innovative leadership to the fullest. Like many organizations, the Coast Guard is resource strapped. We need to get creative and challenge the current way things are done to still fulfill the 11 statuary missions of the coast guard.
LD: How does knowing you are going back to the coast guard influence your career goals?
DM: When I return I will have 4 years left, then can retire from the military after 20 years of active duty. I plan to pursue a second career. When I go back I will go into a more business focused role like budget management or finance. The biggest impact on my goals is that while at Haas I'm not really allowed to take an internship – there are some legal restrictions since I am on active duty. For the summer I can take classes or do a quasi-internship in a business role with a local Coast Guard Unit such as the finance office for the Coast Guard Pacific Area in order to gain more experience.
LD: What are some challenges to the lifestyle of active duty:
DM: Honestly one of the biggest challenges has to do with balancing the career of a partner. It's not easy for the wife or husband of someone on active duty to progress in their career with the constant moving required. Often they are not able to find jobs or miss out on building the relationships required for promotions. My wife ran into this barrier a couple times as we were moving around and in one station location couldn't find a job in her area of expertise at all. Michelle Obama worked a lot on this as first lady – especially on how spouses could more easily transfer their job credentials and licensing to new locations. She's been very focused on full support of military families, for which I commend her.
LD: How do you usually celebrate Veterans Day, and how are you celebrating this year?
DM: Usually I spend the day marching in a parade, which isn't obligatory but is "highly encouraged". I actually really enjoy the parades and having the honor of marching with retired veterans from prior conflicts. I also try to eat every meal for free – some years I would plan for a week on how I could maximize the city-wide celebration of veterans.
This year there is a Haas veteran's picnic on Friday that I plan to attend. I wish I were doing something "nobler", but this year I'm taking part of the day to just decompress.
Jake Conger, FTMBA '18, served over 11 years as a fighter pilot in the US Air Force. Learn more about his transition to Haas, his commitment to Service Before Self, and how he plans to continue to be an instrument of change after Haas.
LD: How do you feel serving prepared you for Haas?
JC: The US Air Force core values are integrity first, service before self and excellence in all we do. They match up with the core values of Haas pretty well. The air force core value of service before self continues to deeply resonate with me. I joined the military because I wanted to do something with my life and felt like it's hard for one single person to enact large world change by themselves. I wanted to not only go beyond myself, but also beyond my individual impact to join a larger organization and be a part of large-scale change.
As a fighter pilot – you have to be both feet in. You can't be half in half out, that's a good way to die.
I eventually chose to leave the military because wanted to be a larger part of my family and provide a more stable life. I met my wife, Rebecca, in college and we got married shortly after, between two pilot trainings stints. We now have two young children; a four-year old boy and an eleven-month girl.
LD: How has the transition been to Haas?
JC: It's been good. One of the challenging aspects is that I worked a whole lot as a fighter pilot. I kinda expected to work less in the MBA program, but that hasn't entirely been the case. Not all the work is mandatory, but I spend much more time away from home than expected. I've been fairly active socially for an older guy who has a family. Rebecca is still home with our young daughter. The expectations vs. reality on time commitment in business school are very different. Happiness is based on how well reality meets expectations, so we had to shift expectations as a family now that we know how much time the MBA takes. Still, one huge thing I took from serving in the military is not to sweat the small stuff. There's some stress, but a lot is still small stuff. At the end of the day I get to come home every day to my wonderful family, which is great.
LD: What do you want to focus on after Haas?
JC: Well, what I wrote my essay about is working on solutions to provide healthy food to those that can't afford to shop at whole foods. It's an uphill battle in a long term problem.
I want to provide for my family, but I didn't join the air force to make money, to be famous or to move up rank - I joined the air force because I wanted to do something for my life. The same thing goes for my career after Haas.
When I came to Haas it seemed like everyone was thinking of their lives as an instrument of change. This attitude is why I joined the air force and why I joined Haas – service before self.
LD: Do you foresee any large changes with the transition to a civilian career?
JC: When you are in the military and looking at the civilian business world it seems like there is this black box. I thought I would need to pick up tons of technical skills from my classes and had a lot to learn, but instead found that there are so many transferable things. People often ask me how I am going to transition to a role where I will need to influence without authority after coming out of the military. The perception is that military is very hierarchal and that people have to listen to you, but this is not the case. As an officer you can tell someone to do something but it doesn't mean they will do it right, or do it well. If you haven't trained them well or motivated them correctly, they won't do what you need. This tends to be the same in the business world. I'm glad the military prepared me as a leader on how to train, motivate and lead people.
LD: How do you celebrate Veterans Day every year?
JC: For most of my career I didn't have time off for holidays, so to me holidays aren't a big deal. When I deployed to Iraq I missed everything from Thanksgiving almost to Valentine's Day (my wife picked me up from the airport on Feb 14th).
What gets me more than a single holiday is when I hear the national anthem at the beginning of football games. For me it means a lot. I went to undergrad at the University of Notre Dame and remember how impactful the national anthem was at the start of every game. I also remember one time I got to do a flag ceremony in Normandy one year on Veterans Day. The memory of that experience will always stand out to me when I think of Veterans Day.
---
Oct 27, 2016
---
Hitting Pause: An Exploration of Yom Kippur and What it Takes to Maintain Religious Traditions in Corporate America
In the fast paced realm of Corporate America, many find it difficult to step away from daily demands for a matter of minutes, let alone an entire day. Yet earlier this month Jews around the world stopped their daily routines for 26 hours to pray and fast in observance of Yom Kippur, the Sabbath of Sabbaths and holiest day of the Jewish year. Often called the Day of Atonement, Yom Kippur falls 10 days after the Jewish New Year (Rosh Hashanah) and is traditionally observed through 26 hours of prayer, repentance and abstention from food and drink - the majority of which is spent in a synagogue with family and the community. This year, Yom Kippur spanned sundown on Tuesday, 10/10 to nightfall on Wednesday 10/11, sandwiching the Leading People final exam for some first years. Jewish students were able to shift the exam date one day, allowing them to observe the holiday. Still, some faced the choice whether to study on the Sabbath or fully step away from the demands of business school.

Maxwell Kushner-Lenhoff, FTMBA 2018, talks about the personal importance of preserving his religious traditions and observing the Sabbath as he moves up the corporate ladder.

LD: What is the significance of Yom Kippur?

MK-L: If you ask any Jewish person for the most important holiday, nine out of ten will point to Yom Kippur. It's kind of like the Christmas of the Jewish calendar, just more somber. Tradition has it that, at the end of the holiday, the Book of Life is sealed, and it is determined who will live and die in the coming year.

LD: How does your family observe every year?

MK-L: Ever since I can remember, my family members and I have paused our lives - whether work, school or play - and spent time together. While fasting we take time to think back and reflect on the previous year, to repent or atone for past missteps, and to pray for life and good health in the year ahead. Temple lasts for three hours Yom Kippur Eve and six to eight hours on the holiday itself. There's not even a lunch break because no one is eating.

LD: How did you celebrate this year?

MK-L: This year, I went to temple in the South Bay. Unfortunately, I wasn't able to go home. Our last class was an hour before the start of Yom Kippur, then I had to take a final the morning after the 26 hour fast. While the makeup exam didn't conflict with the holiday - I wasn't able to study at all during that whole time since I was in temple and observing Yom Kippur.

LD: What can Haas can other organizations do to be more culturally sensitive to religious observances?

MK-L: It seems like some organizations are way ahead on this. Even Mark Zuckerberg made time for Yom Kippur: I saw him slip into services at the back of the synagogue I went to.

Other parts of the country seem to be ahead as well. Over my last eight years on the East Coast - first at Yale and then in New York City - I never had an issue with major scheduling conflicts on Yom Kippur. The organizations that I was a part of always had the religious sensitivity to look ahead to intentionally avoid scheduling major obligations on the holiest of Jewish holy days.

With the extraordinary diversity of the Bay and of Cal, you would think it would be more sensitive to different religions. But instead, there is sometimes a weird trade off where being more "liberal" can bring resistance to religiosity and actually limit traditional religious self expression. In the ideal world, each organization would have a religious sensitivity calendar with crucial holidays like Yom Kippur, Christmas and the Muslim feast day Eid al-Fitr blocked out. People wouldn't need to change most behaviour on those days since direct conflict with crucial events such as conferences or final exams would be avoided.

Find out more about the Gender Equity Initiative (GEI)

What is the Gender Equity Initiative?

The Gender Equity Initiative (GEI) was founded in 2013 with the primary goal of achieving equal gender representation in the full-time MBA program. The initiative is a working group of select students who strive for gender equity, diversity and inclusive representation at Haas and beyond.

What is GEI working on this semester?
GEI has two committees, Admissions and Training & Education. The admissions committee works to connect female admits to current students and recent alumni to share their experiences at Haas with the goal of improving yield and reducing melt (when an admitted student deposits, but ultimately chooses not to attend). If you're interested in forming relationships with female admits by sitting on a webinar panel, being profiled in a blog post, or donating your time as a phone-banke
r, please contact Hady Barry (hady_barry@mba.berkeley.edu). Training & Education, newly formed this semester, will be seeking and implementing ways to support faculty, staff and student leaders on gender issues.
How do I join Gender Equity Initiative?
The application will be released next Thursday, 11/3. Co-President applications are due 11/10, and general membership applications are due 11/18. To learn more about GEI, drop by GEI Recruitment Office Hours during lunch this week 10/24-10/27 (
exact times found here
), check out the
recruitment info deck
, or reach out to Co-Presidents Reneé Selanders and Jess Sun.
Best Practices for Tough Conversations
Catch a recap of the Best Practices shared during the c/o 2018 Week Zero diversity session, AND SUBMIT YOUR OWN HERE!
1. Self Regulation
- Be aware of your own temperature
- Take a breath

2. First seek to understand
- Attempt to briefly look through the lens or perspective of someone different from you

3. Give people the benefit of the doubt
- Assume someone is using the best language and terms they have available
- Assume a baseline level of respect and love
- Exercise patience. Bring them along the journey

4. Lean in to discomfort
- You don't need to be comfortable, you just need to be safe

5. Personalization
- Use personal experiences
- Be careful of overarching assumptions & grouping
- Focus on systems not individuals

6. Self Care
- Consider your own boundaries in each situation. Express them.
- Learn what rejuvenates you
- Utilize support networks

7. Be vulnerable
- Share what you really think and stand for what you believe
- Don't be afraid to be yourself
- Don't be afraid to revisit a conversation

SUBMIT YOUR OWN HERE! Submitted best practices will be shared in the next Diversity Digest!
---
Sept 29, 2016
---
Sex, Gender, Trans Starter Pack
The conversation on the trans experience has grown exponentially since 2014 when Time magazine published a cover story entitled "The Transgender Tipping Point." "Transgender people — those who identify with a gender other than the sex they were 'assigned at birth,' to use the preferred phrase among trans activists — are emerging from the margins to fight for an equal place in society," said Time. Trans stories such as those of Laverne Cox and Caitlyn Jenner have further heightened the level of pop culture trans consciousness – promoting the view that gender is not as simple as male vs female, penis vs vagina.

So what is gender if not male and female? And how can we be informed allies when speaking on the subject?

Jess Sun, Q@Haas VP of Education, explains some of these nuances and concepts to help the Haas community explore the extremely complex topic of gender.

1.

G
E
N
D
E
R
is not one dimensional
, but instead an intersection of three aspects: sex, gender identity and gender expression.
Sex
, or biological gender, refers to physical attributes like genitalia.
Gender identity
is one's internal sense of self as male, female, both or neither.
Gender expression
is one's outward presentation and behaviors related to gender identity.
2.
Cisgender
,
or
cis,
refers to people whose sex assigned at birth, gender expression and gender identity align.
Trans
and
gender-expansive
are umbrella terms that describe people who broaden commonly held definitions of gender, i.e. aren't cis.
3.
Gender-expansive people are diverse.
Some trans people identify with a gender that differs from the sex assigned to them at birth. Other trans people do not identify as either male or female, but as a blend of both, more, or neither. Still others identify with a gender, but express their gender in ways that violate stereotypical presentations and gender norms. Intersex people do not fit typical binary notions of male or female bodies. Learn more about intersex people
here
.
4.
Cisgender privilege is never having to think twice about one's gender identity.
When cis people fill out forms, shop for clothes, or show ID, they are not reminded that culture and society do not account for their experience with gender. Gender is all around us in everyday life. To better understand cisgender privilege check out this article on
130+ Examples of Cis Privilege
.
5.
Trans people exist.
They have existed throughout history and across cultures. Check out
this cool map
of sexual orientation and gender identity throughout history and
this stunning photo series
depicting Muxes, the treasured third gender members of Mexico's indigenous Zapotec community.
6.
Transphobia is deadly.
Trans people, specifically trans women of color, experience violence disproportionately to the rest of the LGBT population.
At least 19 trans people have been murdered in 2016.
#blacktranslivesmatter #intersectionality
7.
Transitioning doesn't happen overnight.
Transitioning is a complex, highly personal process of altering one's birth sex. Transition might include coming out, using a different name, new pronouns and dressing differently.
8.
Reassignment surgery isn't a given.
Many trans people are prescribed hormones by their doctors to change their bodies. Some undergo surgery as well. But not all trans people can or will take those steps. Being trans is not dependent on medical procedures.
9.
Gender identity is not the same as sexual orientation.
Trans-ness relates to gender identity, not sexual orientation, which has to do with who you have sex and fall in love with. Trans people can be straight, gay, bi or queer.
10.
Feminism has not always been kind to trans women.
TERF is an acronym that stands for Trans Exclusionary Reactionary Feminist. You might be surprised to hear that a TERF is a thing, but it is. Feminists and feminism have not been perfect in their histories or present. Read more about trans-inclusive feminism
here
.
11.
Terms to avoid:
"transsexual," "transvestite," "pre-op," "post-op," "transgendered," and "sex change"
12.
Trans people aren't doing drag or cross-dressing.
Trans women are not cross-dressers or drag queens. Drag queens are men, typically gay men, who dress like women for the purpose of entertainment.
Want to Learn More?
Questions? Drop them in Q@Haas' Coming Out Week "Ask Us Anything" box in the MBA lounge.
Check out this trans allyship guide
Come hear Vivienne Ming, trans scientist and entrepreneur, speak on Sex, Gender and "The Tax on Being Different" over free food and drink at the Q@Haas and WIL event Tuesday, October 4th at 6pm. Sign up here.
An Open Letter to Haas
Last Thursday students, faculty and staff (including Dean Rich Lyons) wore all black and stood together on the steps of Memorial Stadium in solidarity to support the Haas BBSA and Black Lives Matter. It was a tremendous example of allyship, felt and appreciated by every member of our BBSA.

The event was organized by our BBSA co-presidents Jenelle Harris and Jay Obaze and served as one of the many conversations to be had in our Haas community to address the experience of Black Americans.

In an open letter to Haas, Jay Obaze, BBSA Co-President, talks about the significance of the event and shares his personal reflection:

Dear Haas,

I personally want to thank all members of the Haas community that wore black attire and/or stood with us on the steps of Memorial Stadium in solidarity and support last Thursday.

When Jenelle and I originally came up with this idea, we felt like we didn't have many options and just wanted to do something. We thought by doing something rather than nothing it would at least allow us to find peace in such a difficult time.

I was genuinely moved by the groundswell of support that arose here at Haas. When I step back and reflect, I shouldn't have been surprised, because the Haas community is defined by its spirit of allyship, its commitment to learning through the stories of others, and its huge heart.

I am aware that conversations on race in America are often very difficult for people, but Haas has shown that it's open to learn and be educated on the issues that are directly impacting people of color in this country.

In the days following last week's demonstration many of you approached me directly to thank me for organizing it and inquire about what we could do next at the Haas community. This has further galvanized me to follow through on the promise I made that day: To continue the conversation on how we can address issues of discrimination, implicit bias and police brutality against of people of color.

Next Wednesday, October 5th, the BBSA, Consortium and MBAA will co-sponsor an Ask Me Anything panel event. This event will seek to provide insight on the unique experiences our Black students have in their daily personal and professional lives, share facts to bring awareness to the true problem at hand and dispel some of the common misconceptions of Black Americans.

I invite you to join us for this important discussion and be a part of continuing this conversation at Haas and beyond.

Sincerely,
Jay Obaze
Co-President, Black Business Students Association

What can allies do to learn more?

1. Sign up for the BBSA Ask Me Anything event HERE. The event will take place Wednesday, October 5th, from 12:30-2pm. Light refreshments will be provided.

2. Check out these links:
11 Major Misconceptions About the Black Lives Matter Movement
The Truth About FBI Crime Statistics by Race
The Science of Why Cops Shoot Young Black Men
This insightful response to the term "All Lives Matter"

3. Learn more about policies and legislation that can address police violence, and get the facts on the 2016 Presidential election agendas surrounding this issue HERE and here.

4. Learn more about overall systemic discrimination
Such as the war on drugs and mass incarceration. Check out this awesome Op-Ed in the New York Times by Jay Z HERE

5. Save this Ally Resource List
Find an amazing list of books, additional articles and resources for allies HERE
---
Haas Perspectives - May 1, 2016
---
Race Inclusion Initiative
What is the Race Inclusion Initiative?

The Race Inclusion Initiative (RII) is a Haas student run group that seeks to understand and improve the Haas experience for students in the FTMBA program by conducting qualitative and quantitative research on the admissions process, the classroom environment, and student culture as it relates to underrepresented minorities (URM). For the purpose of RII research, URM is defined as African American, Hispanic American, and Native American.
RII is a student-run group that was organized this year after several student leaders came together in search of answers to questions surrounding representation and inclusion of URM students and race inclusion in the curriculum of the FTMBA program. RII is organized into three committees, each with a faculty sponsor to assist with research methods and analysis.
Come hear about the team's initial findings and plans moving forward.
Date: Thursday May 5th
Time: 12:30-2:00PM
Location: Wells Fargo Room
Light appetizers will be served from 12:30-12:45PM. The presentation will begin promptly at 12:45pm.
---
Haas Perspectives - April 3, 2016
---
FIRED FOR BEING LGBT LEGAL IN THE US??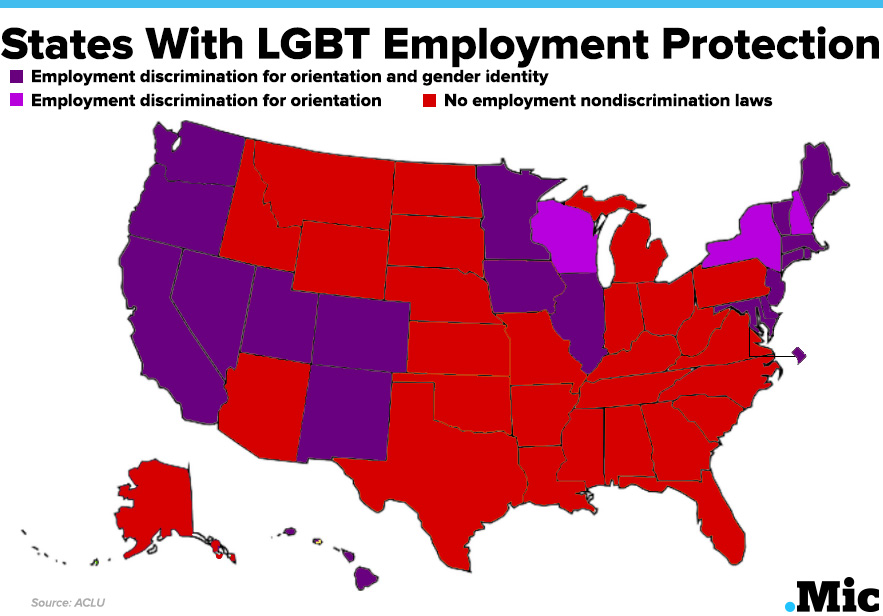 North Carolina recently passed a law allowing for discrimination against LGBT people in employment and housing, bringing attention to a recent wave of anti-LGBT legislation in the US. Read more about it here.

Jess Sun, FTMBA 2017, gives her perspective on recent anti-LGBT legislation in the US.

LD: Is it actually legal in the US to fire someone for being gay?
JS: Yes. It is a widespread perception that because same sex marriage is legal in all 50 states the legal battle for LGBT rights is over, but that is far from true. Full nondiscrimination protections for LGBT people exist in only 19 states plus Washington D.C. (view the map and article here). Though President Obama has prohibited discrimination on the basis of sexual orientation or gender identity for federal employees (read more here), there is no federal protection for private employees. That means that in the red states shown above, LGBT people can legally be denied service, evicted or even fired. Marriage was a huge win, but it unfortunately has led to backlash in the form of protections for more basic rights. As someone in my class of ROMBA Fellows (Reaching Out LGBT MBA) put it, before we are couples we are first individuals, and that means having a job and a place to live.
LD: Are there recent updates to this legislation?
JS: The North Carolina bill, House Bill 2, came in response to a Charlotte city ordinance banning discrimination on the basis of sexual orientation and gender identity. It's received a lot of attention because of how swiftly it whipped through the legislative process (the legislature was not in session - it was passed in the House and Senate and signed into law by the Governor within 12 hours during a special session that cost $42,000 to call), and because of its broad scope. It not only bars local governments from having ordinances to prohibit discrimination against LGBT people, but also prohibits trans people from using the public restrooms of their gender identification. House Bill 2 is not an isolated event, however. It is part of what LGBT advocates have been calling an unprecedented wave of almost 200 state-level anti-LGBT bills. A few of the states following North Carolina's suit include Georgia, Mississippi, Missouri and Tennessee, but luckily most of the governors of these states oppose the anti-LGBT legislation being proposed or passed. The wave started in Houston, which recently overturned the Houston Equal Rights Ordinance, or HERO, by referendum in November 2015. HERO was a non-discrimination law prohibiting various forms of discrimination, not just LGBT. HERO was a big blow given that Houston's mayor at the time, Annise Parker, is an openly gay woman.
LD: What's all this I hear about bathrooms?
JS: Right. So these bills consist of many measures, but conservatives have very deftly made the conversation about a single issue; bathrooms. The conservative view is that trans people should not be able to use public restrooms that correspond with their gender identities, but rather their assigned sex at birth. The narrative they've crafted is that if trans people were allowed to use the bathroom with which they identified, it would allow men to sexually predate women, which is wrong on so many levels. This policy stance denies the validity of the trans experience and paints them as rapists. It reeks of women-are-fragile-and-need-protecting paternalism and overlooks the simple truth that if people wanted to rape people in public bathrooms, they already can - no sign is going to stop them. It is sad to have to even state, but trans people are not more likely to be rapists. In fact, trans people are more likely to be the victims of violence. 72% of victims of anti-LGBT homicide were trans women and 67% were trans women of color (read more here). Trans people also experience much higher rates of sexual violence and suicide.
LD: Wow. Is there hope?
JS: Yes, and businesses are playing a large role in the response to anti-LGBT measures, most prominently in response to North Carolina's House Bill 2. 90 high-profile business leaders signed a letter calling for its repeal, including Bank of America (headquartered in Charlotte), Apple and Facebook. And though there is much more that could be done, as many are pointing out, this response illustrates the significant influence businesses can have on LGBT issues. (Hey, that's going to be us someday!)
If you found this post interesting, you're in luck! Q@Haas has created a new exec role, VP of Education (Jess Sun, FTMBA 2017), to drive educational outreach and affinity group partnership within the Haas student body on LGBTQ issues. Look out for education series events that will explore topics like intersectionality, sex and gender identity, policy and business! The first session in this series, "Not Your Gay Best Friend", is on Tuesday, April 12th. Sign up here.
---
Haas Perspectives - March 4, 2016
---
ZUCKERBERG REPRIMANDS FACEBOOK STAFF

Facebook CEO Mark Zuckerberg responded forcibly last week after multiple incidents of employees crossing out the words "Black Lives Matter" on shared writing walls in the Menlo Park Facebook office. Read the full article from USA Today here.

Jenelle Harris, FTMBA 2017, gives her perspective on the racially charged incidents at Facebook and reflects on Zuckerberg's reaction.
LD: Black Lives Matter is a national movement, involving all races who resonate with its cause and find issue with the level of police brutality against Black Americans and mass incarceration. How would seeing someone visibly denounce this cause in the workplace have made you feel as a Facebook employee?
JH: I would have felt as though someone must truly not understand what Black Lives Matter means, nor the history of race relations in America that have yielded the current circumstances that make this movement even necessary. Given how few African American's are staffed at Facebook (only 2% of all staff), I also would have felt as though my presence was truly not valued. To be in a company with such low African American representation would already make me feel as though people like me are not welcomed, but to have someone publicly deface this slogan, which represents the justice that African American families deserve, would feel like a massive slap in the face. They might as well have written:
we don't want you here.
LD: How has the Black Lives Matter movement been applicable in your personal life?
JH: Black Lives Matter has brought to the public eye a situation that is sadly not unique or new, but oddly not discussed much in public mainstream discourse. The reality is that police brutality occurs at disproportionate rates to Black men and women. There are numerous stories of Black men and women who have experienced varying levels of unfair police treatment, fueled by ingrained racial biases. Black Lives Matter is not saying that ALL cops behave egregiously, it is acknowledging that unfortunately, some do. These acts of violence are occurring during an era when many would like to pretend as though racism doesn't still exist. Learn more about the historical aspect of this issue
here
and
here
.
LD: Where do we go from here? Do you feel the Facebook town hall will be effective for employees?
JH: The fact that Mark Zuckerberg took such a powerful stance is incredibly encouraging. Many business leaders are uncomfortable discussing race, particularly in cases in which racism occurs - so I applaud his response. I hope the town hall is a learning moment for everyone on staff and that people walk away understanding why the "Black Lives Matter" movement exists and should matter to all Americans.
---
GENDER EQUALITY AS A GLOBAL DISCUSSION



Gender equality is a hot topic at Haas, but what does this look like in cultures around the world? Facebook COO Sheryl Sandberg recently shared a video on Procter & Gamble's marketing campaign for Ariel laundry detergent in India. Through a heartfelt story, P&G highlights gender disparities in traditional Indian culture and encourages men to #ShareTheLoad. View this powerful commercial here. See Sheryl's post here.
Mubeen Khumawala, FTMBA 2016, reflects on what the #ShareTheLoad campaign means to him as a person of Indian origin.
LD: What were your initial thoughts on the commercial? Have you witnessed gender inequality in Indian culture?
MK: It's definitely segregated; women are expected to do chores around the house and men are expected to be the bread winners. Most men don't even contribute to domestic chores. Women do everything from cooking and cleaning to raising the children and checking homework.
What bothers me more than anything else is that even when men see their wives working hard and exhausted they
still
don't contribute. If a man were thirsty he would ask anyone else in the house (his wife, the children or household workers) to get him a drink instead of getting it himself. I feel this perpetuates a sense of laziness.
LD: Have you seen this play out in your own family?
MK: In my extended family, yes. For example I recently visited a male cousin who has a 5 month baby and asked him how many times he had changed a diaper. He looked at me with a mix of shock and amusement. Like "what do you mean"?
My dad, however, has been doing the laundry in our house since I was born and gave both me and my sister household chores since I can remember. He always stressed the merits of hard work and that nothing is beneath you. He would say that no one is too good to clean up after themselves and should be held responsible. I remember when some female cousins visited from India 5 years ago they were so surprised to see my dad hanging clothes out to dry.
LD: Where do we go from here? Do you see views of gender roles changing any time in the near future in India?
MK:
I think companies such as P&G can lead the way when it comes to shifting the discussion. The way you change many of these views is portrayed in the father's reflection in the commercial. Parents have to be role models, especially to young men. If young boys are taught to contribute more around the house they are more likely to be better husbands and fathers. I think slowly more and more people are moving in the direction where household duties are more fluid. In places where people are living in more nuclear families and where women are working, it is becoming more necessary for men to contribute to chores and responsibilities around the house. This is quite a shift from the previous generation and thus creating a stir among people in India.
HUMANS OF HAAS
Humans of Haas: The Politics of Hair. Episode 2 explores the complex relationship people can have with their hair and how it impacts their lives. Click
here
to listen.
---
Haas Perspectives - Feb 4, 2016
---
BLACK HISTORY MONTH SPOTLIGHT
Haas' Black Business Students Association Co-President, Jenelle Harris, speaks on Black History Month and the cultural relevance of our consumption function on Feb 5th.
Why is Black History Month celebrated in America?
Black history is an integral part of American history, yet is typically limited in history books to slavery and the Civil Rights Movement. Blacks in America have often not had the voice to preserve and celebrate their place as a cornerstone in American history and culture. This month-long celebration pays homage to the triumphs and tribulations of a people who were essential to building America into the nation it is today.
What is the origin of Black History Month?
The celebration of Black History Month was started by Dr. Carter G. Woodson in 1926, beginning as "Negro History Week" and later evolving into "Black History Month". At this time the historical contributions of Blacks in America had barely been studied nor documented despite the fact Blacks had lived in the US for over 300 years. Therefore the dominant narrative in America reflected only the white experience and perspective, and history books largely ignored the significant contributions Blacks had made to American innovation, commerce and culture. Learn more about the celebration's origins
here
.
Why was the month of February chosen?
People sometimes ask why Black History month is the shortest month of the year. Dr. Woodson chose February because it includes the birthdays of abolitionist Frederick Douglass and President Abraham Lincoln.
How can I participate in the celebration and learn more?
Glad you asked! Haas' Black Business Students Association (BBSA) will be hosting the Black History Month Consumption Function this Friday, Feb 5th along with multiple events throughout February to celebrate month-long. Come celebrate with us and learn more about Black History Month!
---
LUNAR NEW YEAR SPOTLIGHT
Haas' Asia Business Club Co-Presidents, Yuka Morita and Arun Kanuri, speak on the Lunar New Year and the cultural relevance of our consumption function on Feb 19th.
What is the Lunar New Year?
The Lunar New Year is the first day of a year whose months are aligned with the cycles of the moon, which is different from the Gregorian calendar. Every year is represented by a zodiac animal sign.
This year the Lunar New Year falls on Monday, February 8th
. It will mark the start of the Year of the Fire Monkey in the Chinese zodiac. The monkey is one of 12 animals in the Chinese zodiac (Shengxiào), which is based on a 12-year cycle.
Is China the only country that celebrates the Lunar New Year?
No, many countries in Asia, such as China, Brunei, Indonesia, Malaysia, North Korea, Singapore, South Korea, and Vietnam, celebrate the Lunar New Year. The way people celebrate is different in every country; but in general people host a large banquet for family and friends and organize traditional dance entertainment. To find out more about the Lunar New Year in China click
here
. Want to find out your Chinese zodiac? Click
here
!
How can I celebrate the Lunar New Year with my awesome classmates?
The Asia Business Club (ABC) will be hosting the Lunar New Year Consumption Function Feb 19th. Come celebrate with us and learn more about the Lunar New Year!
---
HUMANS OF HAAS


Missed the pilot episode of
Humans of Haas
? Don't fret. You can still catch stories from two of our veteran classmates about family heritage, perserverance and a little bit of mischief in
Vets at Haas
.